Venice bed and breakfast
> bed and breakfast in Venice, Venice hotel, hotels in Venice, Venice bed breakfast, B&B bb in Venice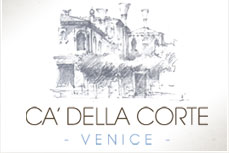 A little treasure in Venice
Ca' della Corte is a XVI century Venetian Palace with its own courtyard.
It has been completely renovated in a style which emphasizes its beauty, elegance and refinement.
It has an excellent location, just 3 minutes from Piazzale Roma, car and bus parking, connected by 12 lines to all the most important places of the city.
It is also located at 15 minutes from Rialto Bridge and San Marco Area.
We paid a special attention to details, so to create an atmosphere of refined elegance and of confidential semplicity.
CA' DELLA CORTE
| Dorsoduro 3560 - Corte Surian | 30123 Venice, Italy | Tel. 0039.041.715877 - Fax 0039.041.722345 |
info@cadellacorte.com